ValuingYouth

-is it economically and socially possible for our generation's greatest leaders sustain the most good? Linkin if you hope so!

help the greatest #learninggeneration search out community of collaboration entrepreneurs

join in designing a package travel guide to entrepreneurs whose alumni are sustaining world
for half of us aged under 30 rsvp isabella@unacknowledgedgiant.com
thank goodness for friendships with china- their businesses were formed after
my

grandad's

survey of entrepreneurial revolution (The Economist 1976) clarified service and learning's digtital economies requried totally different valuation metrics than than zeros-sum age of consuming things and externalising risks across borders -thanks jack for designing e-comerce channels and financial services that win-win with vilage SME's- next can you help transform education
Thanks Yue not since

Ray Anderson

wasalive do my generation have a green entrpreneur to learn from that inspires us half as much as you

Roughly every 10 years a really big "local to global" question has waved across peoples and nations- what will humans massively do next with telecoms and computers?




Strangely schools have not been pro-actively designed so that families could be communally confident of the future getting better for everyone. Over-examination has blocked what ought to have been the greatest freedom ever celebrated by we the peoples.

How will the death of cost of distance as primary communications dynamic change the collaborative capabilities of our human species and livelihoods of youth?

D Late 2000s smartphones, and cloud and every other connection

C Late 1990s dumb phones and worldwide web

B Late 1980s personal computers and worldwide web

A Up to late 1970s terminals and minicomputers and big computers

0 so collaboration between man and computer can race to the moon –what's next

New at C : the Chinese speaking world started their own explorations- changing what had previously been a monotone western (English language) game play; in the West corporations had a lot invested in brick channels and united in attacking most dotcoms community-enterprise networks (see www.cluetrain.com for what western youth at turn of millennium never had a completely open source opportunity to co-create with the west). Out of China something completely different has been evolving

HOW URGENTLY DO YOU AGREE THAT TIME IS NOW FOR THE GREATEST ENTREPRENEURIAL CHALLENGE OF ALL TIMES AND ALL SOCIETIES?

If we could make a wish for 7,25 billion peoples it would be that the late 2010s scales the question – how can we value the half of the world aged under 30 to be the greatest #learningeneration. We have scoped extraordinary sustainability goals – but are the 3 generations youth, parent, grandparents going to transform beyond every conflict that history has spiraled to a happy peaceful sustainable human race form 2030 onwards...................................................................................................................................................................................................................................................................................................................................................................
Does anywhere have a more exciting Entrepreneurs Club than China? rsvp chris.macrae@yahoo.co.uk wash dc usa text 240 316 8157
CEC Membership
Executive Board Members
Jack Ma

Chairman, China Entrepreneur Club

Executive Chairman, Alibaba Group

Ma Weihua

President, China Entrepreneur Club; President of Council, National Fund for Technology Transfer and Commercialization; Former President, China Merchants Bank

Liu Donghua

Founder and Vice President, China Entrepreneur Club; Founder and Chief Guideline Officer, Zhisland

Jiurnalist Liu may be retiring -he founded CEC

Liu Yonghao

Vice President, China Entrepreneur Club; Chairman, New Hope Group; Vice Chairman, China Minsheng Banking Corp., LTD.

Michael Yu

Vice President, China Entrepreneur Club; Chairman and CEO, New Oriental Education and Technology Group; Founding Partner, Angel Plus

Guo Guangchang

Vice President, China Entrepreneur Club; Chairman, Fosun Group
Members
Ding Liguo

Executive Chairman, Delong Holding Limited

Dennis Wang

Chairman and CEO, HuaYi Brothers Media Co., Ltd.

Wang Wenjing

Chairman & CEO, yonyou Network Technology Co., Ltd.

Wang Weibin

Chairman, Suntrans Group; Chairman, Puxiang Health Group; Curator, Shenyu Museum

Wang Bing

Chairman, Ai You Charity Foundation

Peter Wang

Chairman of the Board, Tentimes Group Co., Inc.

Cher Wang
Chairman and CEO, HTC Group

Niu Gensheng

Founder, Mengniu Dairy Group; Founder and Honorary President, Lao Niu Foundation

Deng Feng

Founding Managing Director, Northern Light Venture Capital (NLVC)

Feng Lun

Chairman, Vantone Holdings Co., Ltd.

Feng Jun

Chairman, aigo Digital Technology Co. Ltd.

Frank Ning

Chairman of the Board, COFCO Corporation

Edward Tian

Chairman, China Broadband Capital Partners, L.P. (CBC); Chairman, AsiaInfo Holdings, Inc.

Ai Xin

Chairman, Suntone Group

Liu Jun

Chairman, Eagle International Group Holdings (South Africa)

Liu Lefei

Vice Chairman, CITIC Securities; Chairman and CEO, CITIC Private Equity Funds Management Co., Ltd.

Liu Jiren

Chairman and CEO, Neusoft Corporation

Zhu Xinli

Chairman, China Huiyuan Juice Group Limited

Jim Zhang

Chief Representative, The Nature Conservancy (TNC) Asia Pacific Region; Chairman, LAONIU Foundation

Zhang Yichen

Chairman and CEO,CITIC Capital Holdings Limited

Zhang Yong
Board chairman, Sichuan Haidilao Catering Company Ltd

Tomson Li

Chairman of the Board and CEO, TCL Corporation

Yang Shaopeng

Chairman of the Board, SITC International Holdings Co., Ltd.

Shen Guojun

Chairman of the Board, Intime Department Store (Group) Co., Ltd.

Zhou Chengjian

Chairman, Metersbonwe Fashion and Accessories Co., Ltd.

Frank Wu

Chairman of the Board, Central China Real Estate Ltd.

Liu Chuanzhi

Chairman, Legend Holdings Corporation;Founder & Honorary Chairman, Lenovo Group Limited

Xu Jinghong
Chairman of the Board, Tsinghua Holdings Co., Ltd.

Charles Chao

Chairman and CEO, SINA Corporation; Chairman, Weibo Corporation

Huang Nubo

Board Chairman, Beijing Zhongkun Investment Group

Chang Zhenming

Chairman, CITIC Group Corporation (CITIC Limited Corporation)

Jiang Xipei

Chairman of the Board and CEO, Far East Holding Group Co., Ltd.

Lei Jun
Founder, Chairman&CEO, Xiaomi Inc.
Advisors
Wu Jinglian

Researcher, Development Research Center for the State Council

Long Yongtu

Chief Negotiator of China's WTO accession,Former secretary-general of BOAO Forum for Asia

Ai Feng

Vice Chairman, China Top Brand Strategy Promotion Committee

Wu Jianmin

Member of the Foreign Policy Advisory Group of the Chinese Foreign Ministry, Senior Research Fellow of Counsellors' office of the State Council

Zhang Weiying

Professor of Economics, National School of Development, Peking University

Zhou Qiren

Professor, National School of Development, Peking University

Xu Xiaonian

Professor of Economics and Finance, China Europe International Business School (CEIBS)

Qian Yingyi

Dean and Professor, School of Economics and Management, Tsinghua University
green summit 2014
2015 summit

May 2016 Beijing
On May 8, China Entrepreneur Club (CEC) leaders Jack Ma, Liu Chuanzhi, Ma Weihua, Liu Yonghao and Liu Donghua sat down with over 130 media representatives to conduct a dialogue on the present and future of the CEC.
Since founding in 2006, Liu Chuanzhi held role as Chairman of the CEC, guiding the development of the club mission and vision to better business in China, improve the respect for entrepreneurship, and foster sustainable growth across all business sectors. "From the start, the CEC has developed a mission centered on best channeling our contributions to society. This is a continuous process of debate and improvement." Liu said.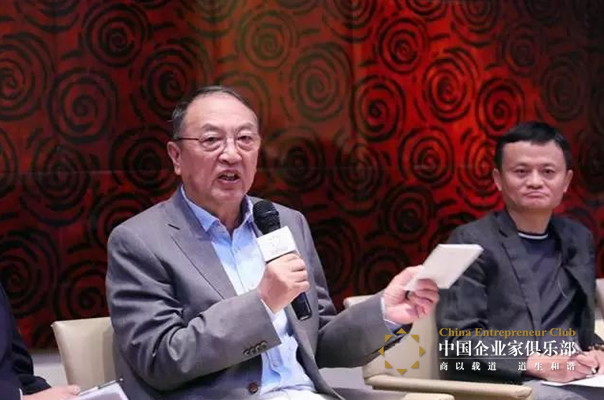 Liu confirmed his recent retirement from the CEC Chairman position, and the careful consideration in supporting Jack Ma as the next Chairman. "Jack is probably the most internationally representative Chinese business leader, and also one of the busiest. I do believe jack will make a great Chairman, and carry the CEC to new heights."
As the newly appointed Chairman, Jack Ma was quick to assert the obstacles and goals of his role, stating, "Businessmen in China don't have it easy; their class is still not appropriately understood or respected. This group must be known, must progress, grow, and release its own absolute maximum potential. The establishment of the CEC carries the purpose of enabling entrepreneurs to be recognized and acknowledged for the values they contribute to society."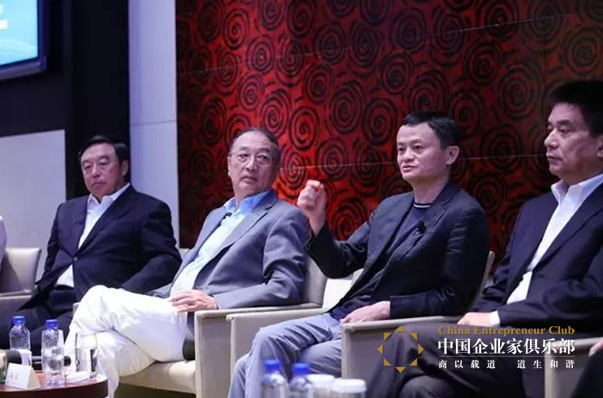 Jack Ma emphasized the importance of entrepreneurs cultivating individual conviction, remaining grateful for yesterday, revering tomorrow and cherishing today. "We join together not simply to speak out, but to create wider social value in our growth, and establish a standard of excellence for entrepreneurs."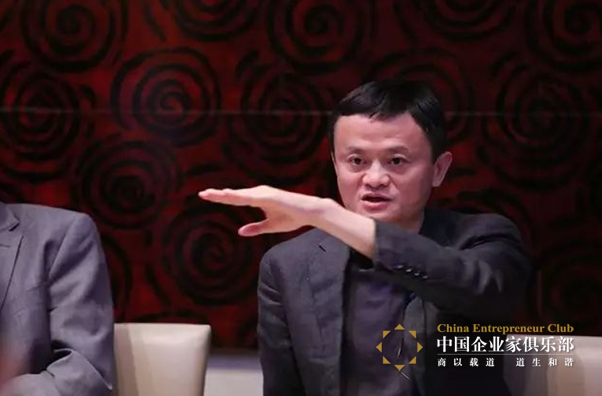 In conclusion, Ma summarized his core responsibilities as CEC Chairman in four aspects: 1) clarify the relationship between business leaders and money; 2) clarify the relationship between business leaders and the government; 3) clarify the relationship between Chinese business leaders and the world; 4) rectify the relationship between the past and the future.
"As the new Chairman, I have stated clearly to the CEC members that I will operate in my own style, in what I believe is best for the CEC and China. For the CEC to last several generations, centuries, she must have members committed to pioneering improvement and development in a style all her own."
A look inside the richest club in China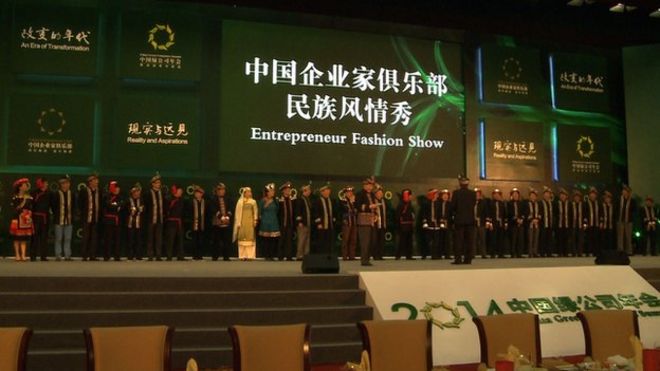 In the north-west corner of Beijing, in an area renowned as a base for huge technology companies, stands a non-descript building a few stories high.
Inside, in a small set of modest offices, is the hub of something quite extraordinary - a club that counts billionaires amongst its members.
"There's little else like it anywhere else in the world," says leadership expert Steve Tappin, who is the presenter of the BBC TV documentary China's Billionaires' Club.
"It's very hard to imagine the top 50 CEOs in America or Europe happily getting together or going on foreign trips as a group," he adds.
The China Entrepreneur Club consists of 46 of China's top business leaders. They are joined by politicians, academics and other advisers.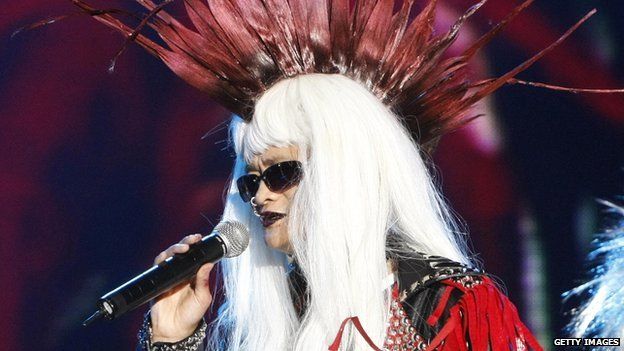 GETTY IMAGES
Several of the members are billionaires. They include Guo Guangchang, who's been described as China's answer to Warren Buffett, property tycoon Wang Jianlin, and Jack Ma of e-commerce giant Alibaba, who's believed to have recently overtaken Mr Wang as China's richest man.
The club offers a forum where company founders can meet and share ideas, and offer advice to each other.
Since it was formed in 2006, the organisation has held regular events, some on a large scale. CEC members have also travelled the world together, meeting presidents and prime ministers keen to learn more about China's business elite.
The club is extremely difficult to join, and new members are rarely admitted. Amongst other attributes, candidates need to have an exemplary track record of business success, and must share the club's values.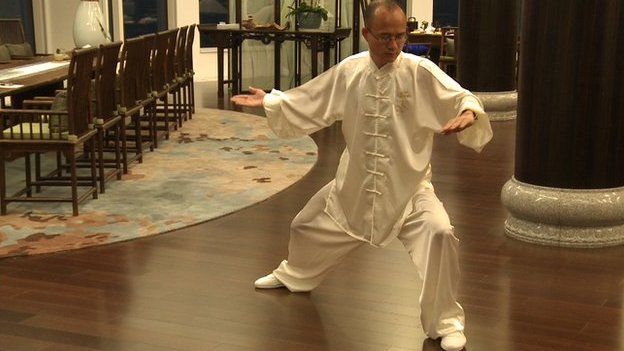 Given that entrepreneurs are often extremely competitive people, how could a club like this possibly work? The answer, according to Charles Chao, chief executive of giant internet firm Sina, is that the members come from different industries, so they are not competing with one another.
"It's an honour just to belong to this organisation," adds Mr Chao.
Members also rally round each other when one of them encounters difficulties. Mr Chao says the level of support available "is beyond my expectation." He sees it as a key benefit of membership.
So how did it all come about? The answer partly lies in the uncertain status of the business community in China.
"Society sometimes mistreats entrepreneurs, and has a lot of misconceptions about them," says the club's founder, Liu Donghua, who used to publish a magazine aimed at people who have launched businesses.
Mr Liu says that one of the main reasons he started the club was to promote greater acceptance and understanding of the private sector.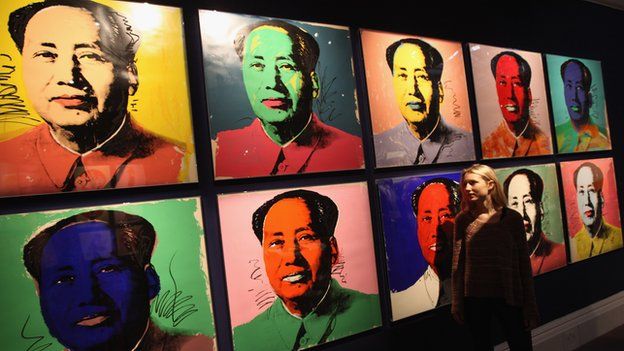 OLI SCARFF
Today, even though China may now be an economic juggernaut, the events of the past still cast a long shadow.
For decades under Communist leader Mao Tse Tung, the state controlled the economy. The private sector disappeared almost completely.
The violent and chaotic Cultural Revolution of the 1960s and 70s damaged the social fabric, and trust between people was often lacking. This would have made doing business very difficult, even if it had been possible.
So when the Chinese government began to open up the economy in the 1980s, the first wave of entrepreneurs found the going tough. They were often greeted with suspicion.
"There's an old saying in our culture - there are no merchants or business people that are not cunning or sly," says Joe Baolin Zhou, chief executive of Bond Education. "I still remember in the 1970s and 80s a lot of intelligent people would feel ashamed of becoming a business person."
In addition to dealing with discouraging social attitudes, business pioneers faced many other difficulties too.
Liu Chuanzhi is founder of huge computer company Lenovo, and is also chairman of the China Entrepreneur Club. He says state-backed enterprises were often given special privileges (such as favourable access to foreign currency), which made it difficult for start-ups like his to compete.
But even once the trailblazers of China Entrepreneur Club and others like them had achieved a level of success, some had doubts about how long it would last.
"Chinese entrepreneurs survived unique circumstances like government intervention, and the idea that 'the state advances as the private sector retreats,'" says CEC member and billionaire Huang Nubo. "Entrepreneurs in the private sector in China live a difficult life. They need to fight against huge market uncertainty."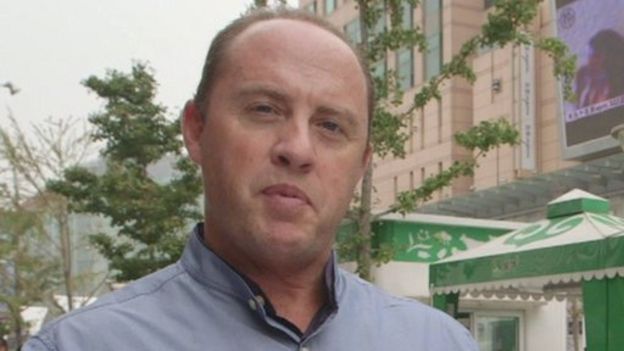 Social attitudes remain a challenge too.
"Successful entrepreneurs in China have an image problem," says Kent Deng, reader in economic history at the London School of Economics. He believes that business leaders need to become more involved in charitable work, to help change how they are perceived.
Some Chinese company bosses are now becoming philanthropists, with CEC member Huang Nubo being just one of a number of wealthy entrepreneurs who have made substantial charitable donations.
But will it be enough to persuade an often sceptical Chinese public to be more welcoming of the business community?
CEC chairman Liu Chuanzhi says the club has a role to play: "We believe private companies of a certain magnitude, like ours, have the responsibility and obligation to help enable the private sector enjoy healthier development in China".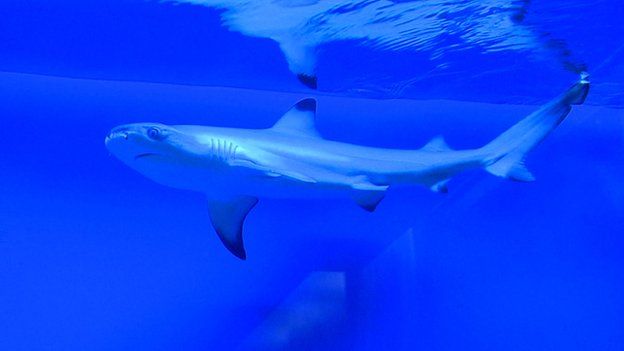 Like most prominent Chinese business leaders, CEC members are reluctant to talk about or get involved in politics. Nevertheless some members say they can see business leaders and organisations like the club playing a wider role in society.
Deng Feng, founder of Northern Light Venture Capital, says he and some other CEC members have sponsored a private think tank, to look at social and environmental issues such as what can be done about the problem of pollution.
"It's going in the right direction" he says.
Club members say they get value from belonging to the organisation. But Huang Nubo warns that there are limits.
Mr Huang has a large tank in his office, with a shark in it. He says there were originally three sharks - but the remaining one killed the other two.
"It's not impossible for entrepreneurs to cooperate, but this requires great skills," he says.
A documentary about the China Entrepreneur Club and the recent history of business in China will be broadcast on BBC World News channel on 25th October at 09:30 and 21:30 and 26th October at 02:30 and 15:30. It will also be broadcast on the BBC News channel on 25th October at 16:30 and 26th October at 01:30 and 10:30. All times are GMT.
US community sample videos
VIDEO | Taiwan's China Dilemma

Our staff members have participated with company sponsorship in such events as:
69th and 70th birthday parties of Nobel Laureate Muhammad Yunus
founding QuarterBillionGirls research netrwork on livelihoods and sustainability goals of chinese women under 30
sponsor of interstate youth enegtrepreneur competitions led by Muhammad Yunus
sponsor of the adam smith scholars publication of Journal of Social Buisness, University of Glasgow

HUIYIN-GROUP was established in 2002. The headquarter located in Beijing CBD district and factory located in prime industrial zone in Weihai Shandong. The company has its branch in Spain, which is the world leading market in the solar energy. HUIYIN-GROUP has an excellent sales team and research and development team whose members are from internationalized listed companies.
The group covers an area of 70000 square meters, with plant area of 100000 square meters. Now HUIYIN has 190 staff, including 30% management personnel. The company is mainly engaged in research and development, manufacturing, sales and case solution of high, medium and low temperature equipment in the solar thermal energy. The company has become a qualified supplier and long-term strategic cooperation partner with State Power Corporation of Spain, China, India, the United States, Australia and some other countries.
HUIYIN-GROUP has a long-term strategic cooperation relationship with a lot of international and domestic universities and institutions of solar energy.
Member Roster