Consensus or Conflict?
China and Globalization in the 21st Century

Editors: Huiyao Wang, Alistair Michie
Published in September, 2021
ISBN 978-981-16-5390-2
Publisher: Springer Nature Publishing Group


Download Book at Springer
https://link.springer.com/book/10.1007/978-981-16-5391-9

Browser, Download & Buy Book at Amazon.com:
https://www.amazon.com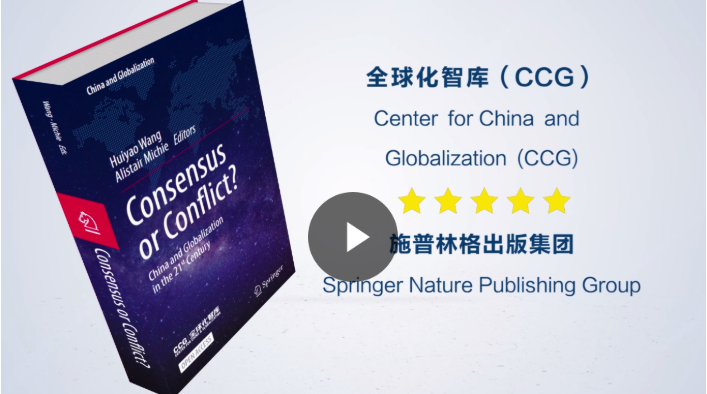 Covid-19 has a profound impact on international politics, the world economy and global governance. An increasingly multipolar world and new changes have resulted in a shift in the international balance of power and relations among major powers require new approaches as interactions have become increasingly complex. China's recent application to join the CPTPP shows a more open attitude, while the diplomatic disputes between Europe and the United States continued to intensify. What impact will this game being played out by big powers have on the world? Will global governance trend towards economic alliances or military alliances? Will we be able to adapt to the new twists and turns in globalization?



On October 11, the Center for China and Globalization (CCG) and Springer jointly launched a new book, Consensus or Conflict: China and Globalization in the 21st century. During the launch, senior scholars in international relations were invited to discuss recent developments and current trends in globalization.

This book brings together 38 leading international scholars and policy-makers, including Pascal Lamy, Joseph S. Nye Jr., Edmund Phelps, Lord Jim O'Neill, Wendy Cutler, Peter Maurer, H. E. Shaukat Aziz, Grzegorz W. Kołodko, Guangyao Zhu, Yafei He, Jeffrey Lehman, Denis F. Simon and 26 other authors, to explore the challenges and dilemmas of globalization and governance in an era increasingly defined by economic crises, widespread populism, retreating internationalism, and a looming cold war between the United States and China.

Another 12 distinguished leaders and scholars, including Sir Danny Alexander, Sir Angus Deaton, Rana Mitter, have generously provided their endorsements after reading through the book.

Sir Danny Alexander, as Vice President of Asian Infrastructure Investment Bank (AIIB), drives AIIB's strategic direction, including its sectoral and country priorities, investment strategy and programming, and operating budget. Before this, he was a Liberal Democrat politician who was Chief Secretary to the Treasury of the United Kingdom and was one of the leaders of UK's coalition government between 2010 and 2015. He has played an active role in promoting finance, tax and trade progress while the UK held the rotating presidency of G8. He also took charge of British infrastructure policy-making, assisted in creating the UK Green Investment Bank. He was knighted in 2015. Sir Danny Alexander highly praised the book:

"Multilateral co-operation is critically important to address the many challenges we face, from tackling the pandemic, dealing with climate change and fostering sustainable development. This collection of essays is a very useful contribution for those seeking to understand our rapidly changing and globally connected economies and societies."

Sir Angus Deaton is a Senior Scholar and the Dwight D. Eisenhower Professor of Economics and International Affairs Emeritus at the Princeton School of Public and International Affairs and the Economics Department at Princeton University. In 2015, he was awarded the Nobel Memorial Prize in Economic Sciences for his analysis of consumption, poverty, and welfare. His wife, Anne Case, is Professor of Economics and Public Affairs Emeritus at Princeton University. Their work Deaths of Despair and the Future of Capitalism is a groundbreaking account of how the flaws in capitalism are fatal for America's working class. They expressed their hope for the book, saying:

"We wish the book every success and hope very much that it contributes to a more balanced view of China in the world."

As Professor of History and Politics of Modern China, University of Oxford, Rana Mitter authored A Bitter Revolution and Forgotten Ally: China's World War II, 1937-1945. He praised the book, saying:

"This is an original, wide-ranging and stimulating set of essays. The relationship between China and the west is one of the most important in contemporary geopolitics, and these authors give us a range of productive and thoughtful ways to address its future."

Sir Peter Leahy Bonfield CBE FREng is Chairman of NXP Semiconductors. He has been a business executive of a number of companies in the fields of electronics, computers and communications. He is a fellow of the Royal Academy of Engineering, the Institution of Engineering and Technology, the British Computer Society, the Chartered Institute of Marketing, the Marketing Society and the Royal Society of Arts. He praised the book, describing it as:

"A must read to get a balanced view of the world today. If anybody is in doubt that we all live in a global, interconnected world then consider the impact of global warming, Covid, social media etc. To live in this world, we must embrace free and open dialogue between peoples and nations. This collection explains some Why's and How's. "

Sir Andrew Cahn served as CEO of UK Trade and Investment during Tony Blair, Gordon Brown and David Cameron's PM terms. He spent most of his career in public service, in the Cabinet Office, the Foreign Office and the Ministry of Agriculture, and three times working in the European Institutions in Brussels. He suggested that:

"If we are to negotiate the next decade in peace, we cannot just trade with China and compete geo-strategically. We need to understand her far better. This collection of essays from across the political spectrum is a major contribution to that understanding."

Tim Clissold is a Senior Research Associate at the Cambridge University China Centre at Jesus College. He is the author of a memoir – Mr China detailing how he helped the Wall Street trader Jack Perkowski to invest, lose and recover over $400 million in Chinese mainland. For now, he helps on dispute settlement of foreign investors in China. He proposed the idea that:

"The rise of China is leading to shifts in the global landscape not seen since the Industrial Revolution that started in Europe. Anyone who wants to understand, and thus benefit from these changes, needs to delve deep into China's millennial long experience of governing a complex state. This exceptional and powerful collection of essays holds the key to that new understanding."

Jon Geldart, Director General of Institute of Directors, has been working in China for dozens of years and authored Inside the Middle Kingdom and Notes from a Beijing Coffee Shop. He praised the book as helping to clarify misunderstandings about China, saying:

"The world is changing, of that there is no doubt. Within the frighteningly fluid global ecosystem of governance, capital markets and business, the place of a pure, rules based, approach could be seen as out of step with the changes already upon us and those about to descend. China's place in this emerging new world order is little understood. Any contribution which assists in addressing this misunderstanding is to be welcomed."

Lord Philip Hammond had served as UK's Foreign Secretary, Defence Secretary, Shadow Secretary of State for Work and Pensions and Shadow Chief Secretary to the Treasury. He stated that:

"Managing our relationships with an emerging Chinese superpower with very different values, history and political systems to our own, yet huge shared economic interests, is likely to be one of the great challenges for the medium-sized Western democracies, like the UK, over the next three decades. This collection of essays will be an important contribution to that debate".

Lord Peter Mandelson served as European Trade Commissioner, British First Secretary of State, Secretary of State for Business, Innovation and Skills, President of the Board of Trade, Lord President of the Council, Member of the House of Lords and Parliament. He was one of several key individuals responsible for the rebranding of the Labour Party as New Labour. He provided comments on the book, saying that:

"The Atlantic community is being driven herd-like towards some simplistic assumptions about China, the apparent threat it poses and the choices we are being asked to make. Such analysis does not get us very far which is why this book is an important antidote and an invaluable guide to a more rational and realistic future – of course we need to mitigate the risk that China poses the west, but we also need to understand where our interests are aligned with Beijing."

Sir John Peace, Chairman of the Midlands Engine and Chancellor of Nottingham Trent University, has been Chairman of Standard Chartered, Experian and Burberry. He observed that:

"The world is not flat … for nations and economies to succeed and stay safe in this increasingly interconnected world, we must be willing to embrace change and be more tolerant of cultures and ideologies which appear different. Global climate change is undoubtedly a crisis which needs all nations to work together if we are to protect the lives and livelihoods of future generations … therefore reaching a global consensus on issues of this magnitude is essential. This book provides a compelling insight into China, the world's second biggest economy, and the role it is likely to play in the future … as such this is a must-read publication."

Sir Mike Rake has served on the board of Huawei Technologies UK since April 14, 2020, having worked as an advisor for the company since January 1, 2019. Before this, he was the President of the Confederation of British Industry (CBI) and is also former chairman of BT Group, former chairman of Worldpay and a director of S&P Global. He recommended:

"The world, and the west in particular, needs to recognise that we are moving to a different global dynamic, economically, politically and militarily, and that we have to engage with China in a balanced and pragmatic manner leaving ideology at the door. This is essential if we are to work together to deal with the enormous economic, climatic and health challenges the world faces in the short and long term. This book should help build understanding in this essential dialogue."

John Russell is Chairman of Henderson Far East Income Limited focusing on investing in the Asia-Pacific region. His recommendation for the book is that,

"For anyone wanting to understand what role China will play in the emerging world, as Western global domination weakens, this book is essential reading. It provides a soundly based framework for understanding the political, economic and military forces at work in the transition."

Consensus or Conflict? We sincerely hope the endorsements of these distinguished scholars and policy-makers further encourage you to read this book and spark new discussions. We leave you to consider the many problems the world faces with a few words from Thomas L. Friedman, who so poignantly asked: "How do you govern a world that is that fast, fused, deep and open?"